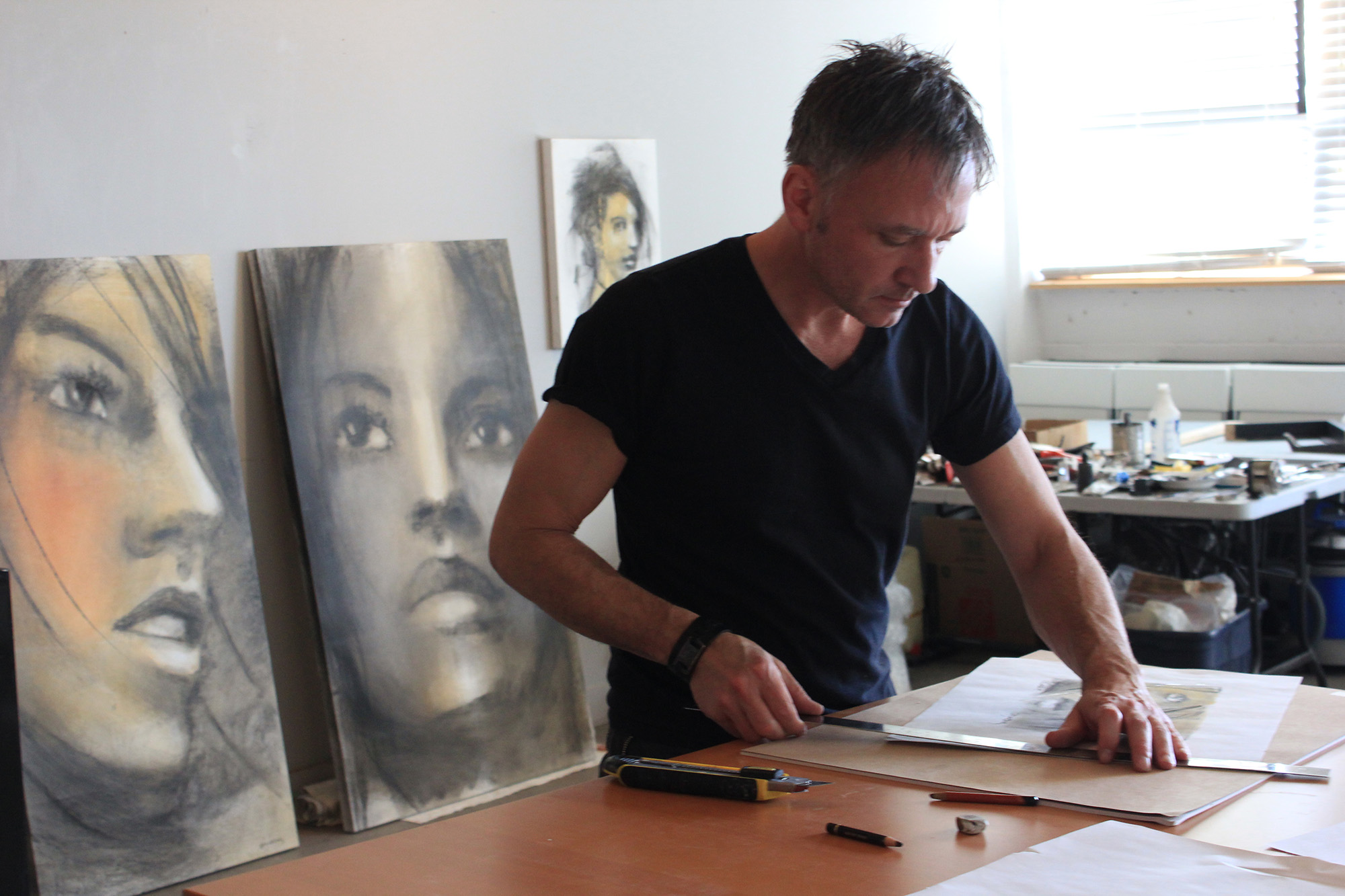 "With my brush, for a brief moment of a painting, I celebrate the right to live, to love, to speak, to make love..."
— André Desjardins
The essence of life emerges with every stroke of Desjardins' brush, every texture and nuance, transforming the empty canvas into a statement about the mysteries of life, love and our universe itself. His thoughts are made real and hidden faces break free from the chaos of life, giving an almost serene and tranquil feeling, while muted and subtle colors coax one into a dreamlike state of viewing the mysteries that Desjardins has revealed.
Born in the small Canadian town of Hauterive, Quebec, Canada, on the north shore of the Saint Lawrence River on March 2, 1964, Desjardins earned his bachelor's degree in Art from the University of Quebec in Montreal. André's passion for life and the stories told in the faces of humanity developed early and have continued to evolve. Today he devotes his time, energy, and passion to translating emotions into images of timeless beauty and humanity as the founder of "Visual Emotionism"; a style (simultaneously expressionist and humanist) that fuses the figurative with the abstract and tells the stories of those he has encountered.
The art of Desjardins, the founder of "Visual Emotionism," reaches out to touch the soul as it awaits the emotional reaction of the viewer for its completion. Like the conductor of a great symphony, Desjardins uses his hands to add both emphasis and nuance to his works, for each is a representation of humanity energized by the emotions of the artist himself.
As Desjardins' paintings continue to evolve, the melding of the old and the new, the Da Vinci with the Jackson Pollock, becomes more and more apparent. The fact that Desjardins chooses to create directly on the canvas serves to intensify the emotions instilled in each work as it tells its story with eloquence and passion and, through a closely guarded proprietary technique, crackling is induced to emphasize the fragility of life and add the feel of the old masters to each creation.
"Art is important because it is a universal and timeless language… it makes me feel immortal… to leave something that will last. It's my way to communicate that kind of emotion."