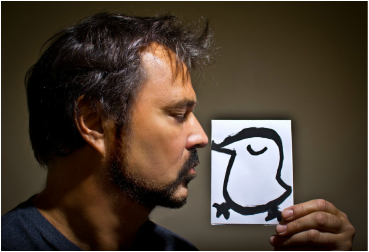 One need not look for a signature in a painting by Frederic Pissarro. His touch has a style and sensitivity so distinctive that I would describe him as a "magician with a brush." I represent and showcase many artists as a gallery and publisher, and his paintings stand apart and above. From his adoration of both people, animals and still life original paintings with its myriad of colors, boldness and expressiveness to his bravura brushwork, all energetic provocative and precise, Frederic is a genius at conveying introspective moments when a person is embraced by the joys and sorrows of life.
Describing his own work, "everything is energy; I want my paintings to be a positive energy, tender, poetic and joyful. I wouldn't paint anything that I would not be comfortable living with. Frederic continues to evolve and develop in the cultural and artistic melting pot of the world. He paints with with feeling and emotion, free from constraints, and it is through this method of expression that he is able to touch all of our hearts. We at Kings Wood Art eagerly await each creation that emerges from his studio, as we know his expressions of love will bring others the same joy that they bring to us.
Frederic's goal as both a person and artist, is to lure his viewers into the psyches of people. It may be a single person such as the woman in "Love My Garden," or it may be the relationship between people, such as the mother and trusting child of "Maternite." Telling much of the story through his work, and not yet all of it, the paintings give his viewers just enough information to delve into their own emotions, fostering a three way relationship between his collectors , the subject matter and him as the painter that is as intimate as Pissarro's strokes of oil and acrylics on canvas.
In discussing Frederic's style, one thing is almost certain: it will continue to evolve. Even after many successful years together, he continues to study, to experiment, to explore. His quest continues daily as he constantly strives to improve, to take his collectors on an emotional journey as he shares the people, animals and scenes that are near and dear to his heart. I once called him a perfectionist, Frederic took exception to that characterization. In that wonderful French accent of his " No", I am chasing perfection but there is no perfection. If I chase it, I am missing it. It will elude me." So very true.
His paintings are earning critical acclaim and are being featured in major exhibition in the United States and abroad. His art is adored and widely collected. Frederic Pissarro will be widely known as one of the world's greatest living artists, achieved through his hard work and extreme dedication to his craft.