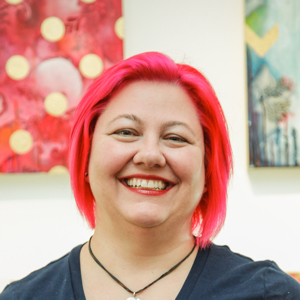 Heather Robinson received formal training in architecture and pursued a successful career as a graphic designer before she decided to practice painting full-time in 2001. Robinson was initially drawn to collage, which followed naturally from web design – the process of combining existing elements into visually pleasing and distinctive tableaux. Since 2007 she has been making art in her studio at in the Bernal Heights neighborhood of San Francisco.
The grid, repetition, the interplay of decoration and order, are all things Heather explores in her practice. Attracted to bright colors and visual excess, in part as a reaction to the moralistic judgement against those things, she takes her inspiration from the repeating patterns of surface design, things that offer no overt function aside from decoration.
Featured all over the world, Heather's art has been featured on ABC's "The View from the Bay", and in
New York Times, "Shopping List: Tuna, Detergent, A Warhol."