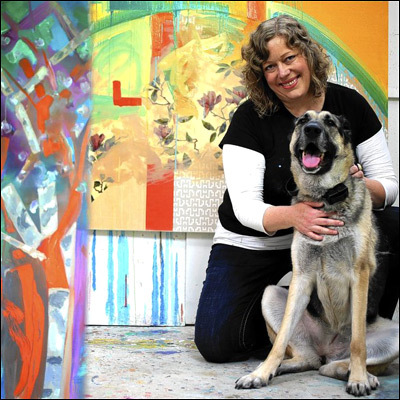 Pam is a Chicago based artist — an abstract painter — in love with color, shape and gestural mark making. Her work/live space is in Chicago's Pilsen neighborhood where she shares the studio with my German Shepherd dog and 2 cats - all rescue animals.
Her work explores abstraction, skirting the line between beauty and raw expression.She experiments with intense hues, bold color combinations and gestural line work. Her paintings are spontaneous and energetic – starting simply with color and shape the work expands intuitively to include mixed media, unconventional materials and collage. She works within a loose, abstracted structure while maintaining clear and colorful compositions.
Pam is experienced in collaborating with interior designers, architects and art advisors as well as private individuals to place existing and create commissioned artworks.
Pam received her BFA in painting from the University of Illinois at Urbana / Champaign and have received several grants and awards including an Illinois Arts Council Fellowship and a CAAP Individual Artist Grant from the City of Chicago, Department of Cultural Affairs. My work is represented in numerous private and corporate collections.