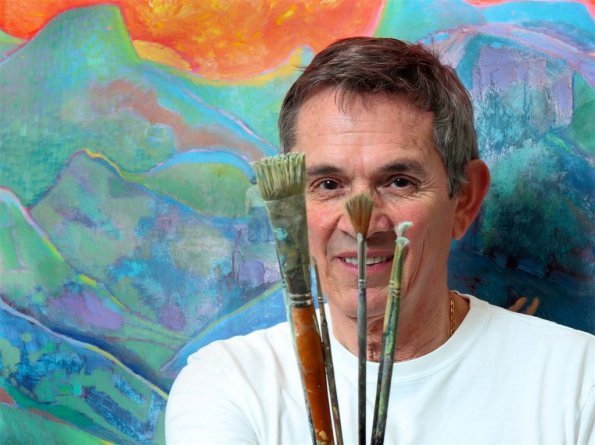 His journey is one that began in the small town of Anserma Viejo, Caldas nestled in the lush Andes Mountains of Colombia, South America where Orlando was born into a family of eleven brothers and sisters and a household that favored an exposure to the arts and classical music at an early age. As early as the age of three, Orlando began to express the innate instinct for color and form that would eventually find its way from the paintbrush to the canvas.
A Colombian resident of the young artist's town, Señora, Doña Maruja Uribe de Restrepo, recognized the stirrings of a virtuosic talent within Orlando and became a benevolent mentor on a weekly basis. The nurturing encouragement of her wisdom and words profoundly empowered the artist, urging him towards his process of self-discovery.
Dedicated to this principle of advancing his evolution both artistically and personally, Orlando left the security of his family and homeland at the age of 21 for the vastness of the United States of America - specifically California. It was followed by a period of years, which, driven by an unshakable commitment to his craft, the artist developed, over time, the distinctive melding of eloquence and electricity that gives his work its dynamic fluidity; steadfastly attracting a loyal following of fans and collectors alike.
" The first lines or brush strokes of my artwork are important " says Orlando. " They are spontaneous, authentic and an extension of my inner being and my relationship with the subject matter...everything else follows."
In 1988, in a formal ceremony at the White House, exactly twenty years after his departure from his country, Orlando Agudelo-Botero was awarded the highest honor that can be bestowed upon a Hispanic immigrant in the United States - the Hispanic Heritage Award. Aside from continuing to explore the fertile terrain of his own inner life on canvas, Orlando's art is also a hymn that celebrates the beauty and wonder of the natural, physical world in which we live.
His internationally acknowledged rise in the art world, combined with a personal quest for excellence continues to manifest itself in numerous accolades and one-man exhibitions including " Luz "1990, " Sonata "1992, " " Misticismo "1993, Equilibrium "1995, " Fronteras "1997, The Nobility Of The Trees "1998, " The Windows Of Tomorrow "2002, " Magic, The Jugglers "2005, " the Golden Fields "2007 and currently "The Sunny Side Of Life ".
With his paintings both in private and public collections as prestigious and diverse as The Carter Presidential Library, NBC Corporate Headquarters at the Rockefeller Center, The Chrysler Corporation, St. Jude's Children's Hospital, The Fine Arts Museum of Long Island and The Betty Ford Center among many others. Orlando Agudelo-Botero has emerged as both a prolific and truly singular voice in the contemporary art scene.